… Berlin-Brandenburg
Amnesty groups and members within a region in Germany organise in districts. Districts represent their members' and groups' common interests, and also have responsibilities beyond the scope of local groups. Berlin-Brandenburg is one of five districts in the eastern region ('Region Ost') of Germany. It is also the largest district in the German Section of Amnesty International. The majority of human rights work in our district is carried out by our members. There are several options to get involved, both on a regular basis as a member of one of our local groups or the district team, and sporadically on specific occasions and activities.
Our district addresses a wide range of issues, such as the fight to end torture and the death penalty, and also campaigns for women's human rights and LGBTI rights. Our objective is to protect and ensure human rights in all parts of the world, e.g. in Latin America, Russia, Turkey, Egypt or French-speaking Africa. We also address human rights abuses in Germany, particularly refugee rights.
Thirty local groups are the foundation of human rights work in our district. They focus on a variety of international regions or on specific issues. Most human rights activity is carried out in the groups. The groups meet at regular intervals and in various places in Berlin and Brandenburg. Numbers range from a handful to a few dozen members per group. In the groups, we discuss the state of human rights in the focus region or the group's current issue, run activities to raise public awareness of human rights issues, do fundraising activities and may also join events organised at district or section level.
Apart from the groups, you can also get involved at district level. The district team consists of our democratically elected spokespersons, who are always happy about new faces getting involved in their working groups. The district's main objective is to support activities at local group level. The district will help by:
facilitating communication between groups
providing rooms and campaigning materials
providing information and seminars on human rights issues
networking with other human rights organisations
representing the districts' interests within the German Section of Amnesty International
As Amnesty follows the principle of direct democracy, there is much room for discussion on current focus issues, how to improve organisation structures, or about adequate fundraising strategies. We discuss all suggestions in depth and make decisions on the basis of democratic rule. The District Assembly is the district's highest decision-making body and sits four times a year. These meetings provide opportunity for all members to have their say and take part in decision-making.
Finally, there are numerous supporters who make regular donations, thus making a vital contribution to our work. Our work and participation in campaigns to protect human rights is based on extensive and expensive research.
Berlin being the capital of Germany, there are plenty of opportunities for successful and effective activities in the public domain. We regularly stage marches and vigils in central places, at state visits or outside embassies of states who are guilty of severe human rights violations. There have been protests against sexual violence against women in Egypt, against government encroaching the right to privacy and excessive online surveillance, against US prison camps in Guantanamo Bay and the persecution of homosexuals in some African countries. In the current pandemic Amnesty will not pause standing up for compliance with human rights, either. We are very aware of our responsibility to fight human rights abuses during these times. Needless to say, we keep up or work while keeping with the current regulations on hygiene and distance.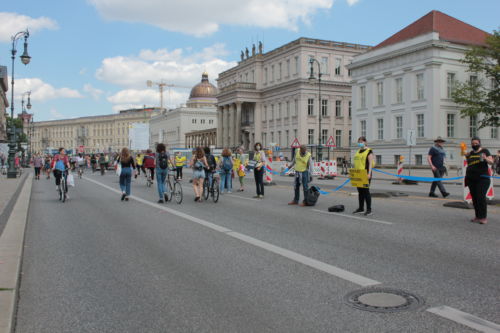 image: The district joins the 'ribbon of democracy' at Unteilbar rally in 2020
The district office is located at Haus der Demokratie und Menschenrechte on Greifswalder Straße 4 in Berlin. The 'House of Democracy and Human Rights' houses over fifty organisations of civil society advocating active democratic participation, human rights and environmental protection. Amnesty Berlin-Brandenburg district is proud to be part of this community and takes an active part in the house's organisation and development.
Our common goal is the global implementation of all human rights written in the Universal Declaration of Human Rights. A variety of measures is necessary in order to reach this goal:
donations both monetary and spending time
work on various human rights issues and countries
a variety of activities and events
We are always pleased to welcome new members and friends, who want to become a part of the world's largest human rights movement! So pop in and join us!